Recent News
2021-10-22
The Association Annual General Meeting 2020/21 successfully held
The Association Annual General Meeting 2020/21 successfully held on 22 October 2021. The meeting adopted the minutes for the Annual General Meeting last year, and Mrs Josephine M. W. PANG, MH, Chairperson of the Association presented the Association's annual work report. At the meeting, the Association's Financial Statements, Council and Auditor Report 2020/21 were reviewed. In the meeting, the election of Council Members 2020/21, appointment of Honorary Advisors and engagement of auditors for the next year were also completed.
List of Council Member
Chairperson: Mrs Josephine PANG, MH
Vice-Chairperson: Mrs Stella T.T. LU, Mr TAI Hay Yuen, Mr Herman H.C. TSOI, Mr David YAU
Honorary Secretary: Ms CHU Koh Ann
Honorary Legal Advisor: Mr Alric C.H. TANG
Honorary Treasurer: Mr Mason S.T. WU
Member: Mrs Carolyn Y. C. WONG CHEUK, Ms Jacqueline W.Y. CHOW, Mrs Catherine K. Y. Siu DOO, Mrs Alice P. M. LAM FOK, Dr Henry W. M. KWOK, Ms Winnie W. C. LEUNG, Mrs Annie K. H. Lee LIANG, Dr Cheryl McLean, Mr Michael T. L. PANG, Prof Marco Y. C. PANG, Prof T. H. TSE, Mr Benjamin K. M. WONG, Mr Kenneth C. M.YOUNG, Ms Elsie S. P. YU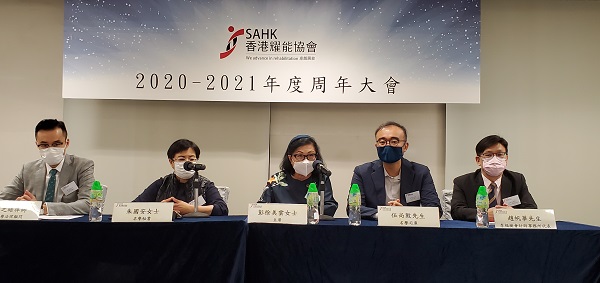 Mrs. PANG, MH, Chairperson of the Association (middle), presented the 2020/21 Annual work report.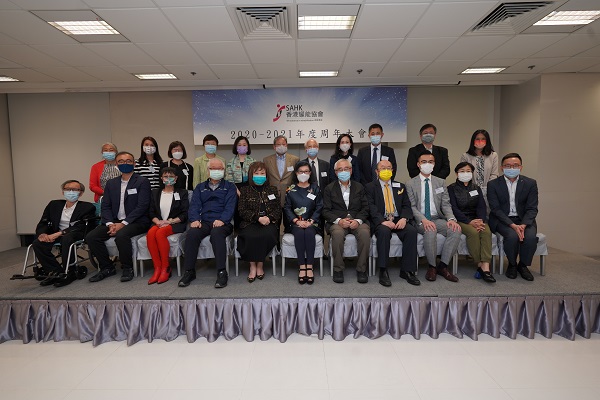 Mrs. PANG, MH (front middle) was photographed with Council and Committee Members after the meeting.